Casa do Impacto talked with Andréa Freire, co-Founder of Colombina Clandestina, one of the projects that end the training period for the Rise for Impact acceleration program this month.
We enter the final stretch of the Rise for Impact training period and invite the 10 participants to takealook back at their journey so far. Then, on December 16th, we will meet the three finalists of the program who will enter the incubation phase, which will lead them to the final prize, in an event not to be missed!
Grab your free ticket here.
In today's interview, you get to know Colombina Clandestina, an independent cultural collective whose mission is to create a contemporary carnival and promote its popular and libertarian expression.
How did you come up with the idea of creating Clandestina Colombina?
Colombina Clandestina was born in 2017 from the courage of three women who recently arrived in Lisbon, facing the reality of becoming immigrants. However, it was the desire to bring to the streets a cry for diversity, inclusion and the joy of living that gave birth, in Alfama, to our first and foremost project: the performance-cortejo of Carnaval. With a look at the intersection of Art, Culture and Territory, the Coletivo started an artivist, feminist and LGBTQIA+ movement that quickly grew in popularity. In 5 years of existence, Colombina Clandestina has achieved extraordinary results, with more than 17,000 "public participants", 150 students in its Artistic Practices and 30 Performances in the public space. The uniqueness of Colombina Clandestina is the result of a new generation of avant-garde artists, including musicians, actors, circus artists, artisans, designers, photographers/ video makers and the "participating public". Together they give new meaning to traditional popular festivities, transforming them into artistic projects of mass social transformation.
How did you find out about Rise for Impact? What prompted you to participate?
I was already following Casa do Impacto on Instagram and was eager to participate in the projects. So when I saw that the applications were open, I didn't even think twice, and then I registered. It was extraordinary that we were selected because two members of our Collective have already participated in other Casa do Impacto initiatives, but with their projects, namely Guilherme Calegari (Baileia) and Fabrizzio Suzzi (Vira Lab Wood).
How has your experience been in these 3 months of training? Something you can highlight?
At Colombina Clandestina, we took a quantum leap in how we think about the project, taking into account our inter-community and how we communicate our pillars of action (Sustainable Development Objectives) to society. We also envisioned a first financial balance that allows our performance non-profit (funded to date 99% by volunteers and the public) and closer to government support.
What is it, how does it work, and who is Clandestina Colombina aimed at?  
Colombina Clandestina is an independent artivist collective based in Lisbon. The Coletivo created an inter-community for minorities (women – cis, transvestites or trans, binary or non-binary, immigrants, Afro-descendants and LGBTQIA+ people ). Our objective is to subvert the normality that trivializes the violence and exclusion of these groups. Colombina Clandestina promotes the occupation of public space with Artivist Performances that subvert the "normal" to generate a positive, local and social impact en masse. The performance is done by the individuals who learn with us. There are no spectators but "participant audiences". The goal is to bring about a change in mentality in society in general and new policies by public bodies.
Every year, Colombina Clandestina opens new vacancies for our Artistic Practices. We teach the art of joy and sharing in a model in which there is always a teacher, but knowledge is also transmitted from person to person – where the youngest learn from the most experienced. As a result, everyone gains more confidence in themselves and becomes agents of subversion of their realities. Currently, the cycle "Corpos Disobedientes" operates, with classes in Percussion and Body Expression. Soon, we will open new groups of Winds & Metals, Pernaltas and Circus.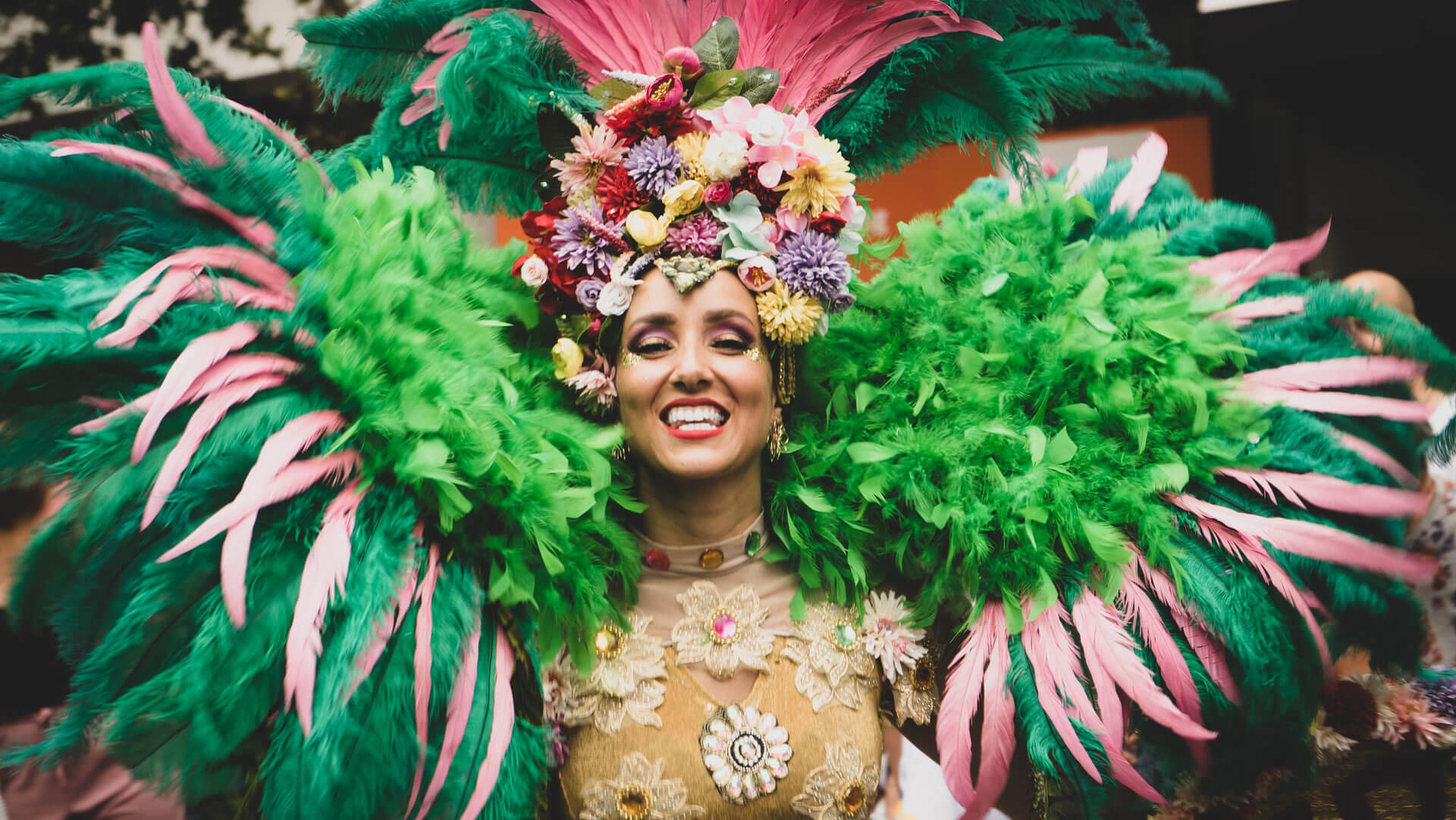 "Colombina Clandestina's mission is to create a community that subverts reality and turns joy into a force for social transformation. We have 3 "Principles of Change", in line with the UN Sustainable Development Goals."
What has it been like for a project like yours to deal with the pandemic? What are the most significant difficulties encountered?
It has been a challenge that forces Colombina Clandestina to reinvent itself daily. The street is in the DNA of our Collective; we live in the public space and seek to embed it with new narratives, those that tomorrow will tell more diverse, multicultural and egalitarian stories. Despite the restrictions, we have been able to make adjustments to the dates in our traditional calendar to maintain activities and ensure everyone's safety.
What would it mean for you to win Rise for Impact?
Winning Rise for Impact would be proof that our dream, which we dreamed of together, really came true! It may sound cliché, but in the case of Coletivo, this phrase applies perfectly. Proof that the efforts and love that all volunteers, students, "participant audiences", and supporters have dedicated to Colombina Clandestina over these 5 years have contributed to taking another step together in the journey of social transformation.
How does the project contribute to achieving the Sustainable Development Goals of the UN 2030 Agenda? 
The mission of Colombina Clandestine is to create a community that subverts reality and makes joy one force of social transformation. We have 3 "Principles of Change", in line with the UN Sustainable Development Goals. They are: Feminism, we bring the discussion paper and the ancient matriarchal woman in society and fight actively for gender equality (Goal 5 – Gender Equality); the Diversity, we defend the rights of groups minority and promote intercultural dialogue, the inclusion of immigrants and social justice for LGBTQIA + community (Goal 10 – Reduction of Inequalities); and Viver a Rua (living the streets), the streets are our stage, we want citizens to exercise their right to occupy them for leisure, art and sport. It is urgent to prevent gentrification in Lisbon and create laws protecting public space against privatization (Goal 11 – Sustainable Cities and Communities ).
In 2025, how do you see Clandestine Colombina?
By 2025, we want Colombina Clandestina to grow and gain scale. We want to bring our joy to more and more hearts. We will continue the work of empowering minorities, serving as a supportive community and positively impacting areas marked by gentrification.
Find out all about Clandestine Colombina here. Stay tuned! This month we will get to know the 10 projects that participate in the acceleration, making their pitch at the Demoday that will take place on December 16th at Casa do Impacto. Admission is free, but prior registration is required here.
Do you want to be up to date with all the news from Casa do Impacto, including our monthly program of events? Subscribe to our newsletter and follow us on social media – Facebook, Instagram,Twitter and Linkedin.