The 3 finalists, Glooma, Actif and Nevaro, had already received €1,500 in grants when moving to the Incubation phase – the semi-final phase of RISE for Impact. In June, they presented their pitch session at Casa do Impacto, where Glooma won 1st place.
For the challenging decision-making task in this 3rd final session, a jury panel gathered: Inês Sequeira, director of Casa do Impacto; Alberto Mojtar, co-founder of The Equal Food Co. (winner startup of the previous edition); Vítor Crespo, founder and CEO of HealthTech Lisboa; Carla Ventura, vice president of CASES, and Catarina Gomes, manager at Manicómio.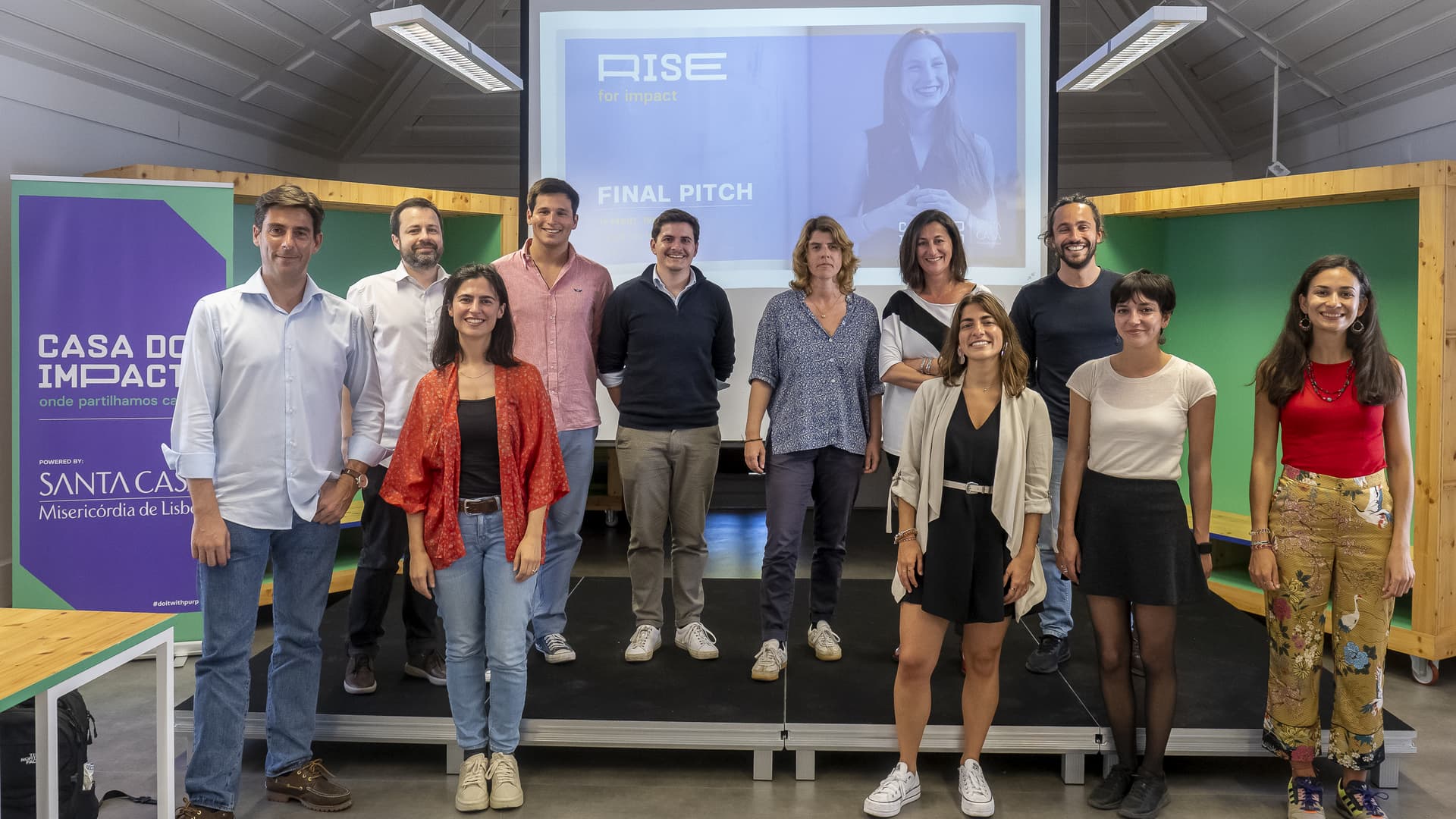 The winner was the health tech startup Glooma, responsible for developing a portable device – SenseGlove – which consists of a glove with sensors that detect abnormalities in the texture of breast tissue, complementing breast self-palpation, aiming to prevent the early stages of breast cancer.
Glooma received a 3,000€ money prize and incubation at Casa do Impacto, which will allow the startup to "explore new paths and define concrete future goals, such as investment", said Glomma co-founders Frederico Stock and Francisco Nogueira.
In 2nd place came Actif, winning a €2,000 prize. Actif is a startup that aims to improve the life quality of older people and promote a healthier and more active ageing lifestyle through online video services of physical and cognitive activities.
Rounding out the podium was Nevaro, who won a 1,000€ prize Money. Through HOLI – its mobile application – Nevaro intends to promote mental health self-management. The app, HOLI, offers gamified strategies based on positive psychology.
In addition to the money prize, all RISE for Impact finalists received 1 year of incubation at Casa do Impacto.
Notice that the 3 winning projects have been participating in RISE for Impact since September 2021, previously selected from a universe of 72 candidates. They were chosen over 3 phases (Bootcamp, acceleration and incubation), culminating in this pitch session determining the winner.
Our director at Casa do Impacto, Inês Sequeira, commented that "the commitment of these startups in creating conditions to improve health significantly makes the health tech area the fastest growing sector in the health sector. All this drive from high-quality projects working in the area, bringing great promise to a brighter future in the innovation of the healthcare technology", concluding saying, "the three finalists are undoubtedly examples of capable and necessary solutions in the market".
RISE for Impact is one of Casa do Impacto acceleration programs, aimed at projects in the development and validation phase of the idea, product or service and business model. It looks to gather the most motivated entrepreneurs who promote innovative solutions to social and environmental problems, aligned with the UN 2030 Agenda, Sustainable Development Goals (SDGs).
The CALL for the 4th edition is now open. LEARN + HERE.
Apply until September 25 – HERE – and don't miss the chance to be the next winner!
Do you want to be up to date with all the news from Casa do Impacto, including our monthly program of events? Subscribe to our newsletter and follow us on social media – Facebook, Instagram,Twitter and Linkedin.