Casa do Impacto had a conversation with Flor Oliveira, co-Founder of Veond App, one of the projects that ends this month the capacity building period of the Rise for Impact acceleration program.
As we enter the final stretch of the Rise for Impact capacity building period, we invited the 10 participants to take a look back at their journey so far. On December 16th, we will meet the three finalists of the program who will enter the incubation phase, which will lead them to the final prize, in an event that you cannot miss (more information soon on Casa do Impacto's Facebook)!
Meet Veond App in today's interview. Veond is a platform that was born out of a passion for a healthy lifestyle and that allows a democrate access to countless eco-friedly experiences and services.
**
How did the idea of ​​creating the Veond App come about?

The idea arose from a set of factors that culminated in the perception of lack of accessibility to experiences, products, or reasonable "prices" in the world of sustainable, natural and 100% vegetable-based products. At the beginning of 2018, we started with events promoting this more conscious lifestyle and a more natural diet, but soon we realized that we wanted to do more than just small local events: we wanted to do something on a more significant scale and that would impact a greater number of people. people, helping them to live and experience "sustainability" in an interesting, truly ethical and animal-free way. We felt that there was a gap in the market for a growing public looking for interesting activities and experiences in this area. This gave rise to the idea of ​​creating a platform that would help the current vegan audience to discover activities that are interesting, ethical and cruelty-free, such as giving those who are not (that is, those who are just curious about the topic) the opportunity to explore a new world of services, gastronomic experiences and sustainable products, enabling them to reduce their environmental footprint as they make simple changes in their consumption habits. Based on this, we have a platform where you can find everything within the ethical and sustainable lifestyle, with all kinds of products, from clothing, accessories, footwear, cosmetics, and even meals or experiences in vegetarian restaurants. High prices and lack of accessibility have been factors preventing consumers from adopting more sustainable lifestyles and our mission is to reduce the drop-out rate for this transition by making these solutions more affordable.
How did you find out about Rise for Impact? What drove you to participate?
I got to know Rise for Impact in 2020 when I was a finalist for the Women4Climate program. At the time, one of my colleagues was participating in a previous edition of Rise for Impact and I remember being very curious about the program. For us measuring impact metrics is a key part of our work and I thought Rise for Impact would be the perfect program to help us with this very important task.
What is it, how does it work and who is the Veond App aimed at?
Veond is a marketplace – app and website – where you can find all kinds of products, solutions or services that are made in a sustainable and ethical manner. There are workshops, books, recipes, articles, food products, clothes, shoes, experiences in restaurants and hairdressers. The platform is aimed at anyone looking to somehow reduce their ecological footprint – either by reducing meat consumption, opting for vegetable-based meals, or by opting for the consumption of natural, local and artisanal products. The platform has all kinds of vegan and cruelty-free products and therefore also suits the needs of vegetarians and the growing vegan public by bringing them everything they need, aggregated in one place, and always with some kind of discount to make it more financially take access to a more sustainable lifestyle.
Of the various offers on the marketplace, which would be your 3 recommendations?
It's hard to choose just three, but here are my recommendations: the first is without a doubt a dinner for 2 at the Legumi Sushi restaurant in Lisbon with a 30% offer. It's an amazing experience and it's been our best seller. It's a special Chef's menu with more than 40 pieces of 100% vegetable sushi and incredible flavors. Secondly, I recommend MYLK, an absurdly innovative product that allows you to make your own almond drink in just 1 minute, a product that helps you save the planet, time and money: just 1 bottle of this concentrate makes more than 12 liters of milk – zero plastic, zero packaging and all the typical taste of the best natural ingredients. And finally, I suggest a Workshop on Pastéis de Nata Vegan at Lisbon Cooking Academy: one of the secrets of Pastel de Nata is the crispy puff pastry, and in this workshop you learn to make everything from scratch. In addition to being delicious, it is a workshop without waste because in the end everything is eaten with good coffee, tea or juice.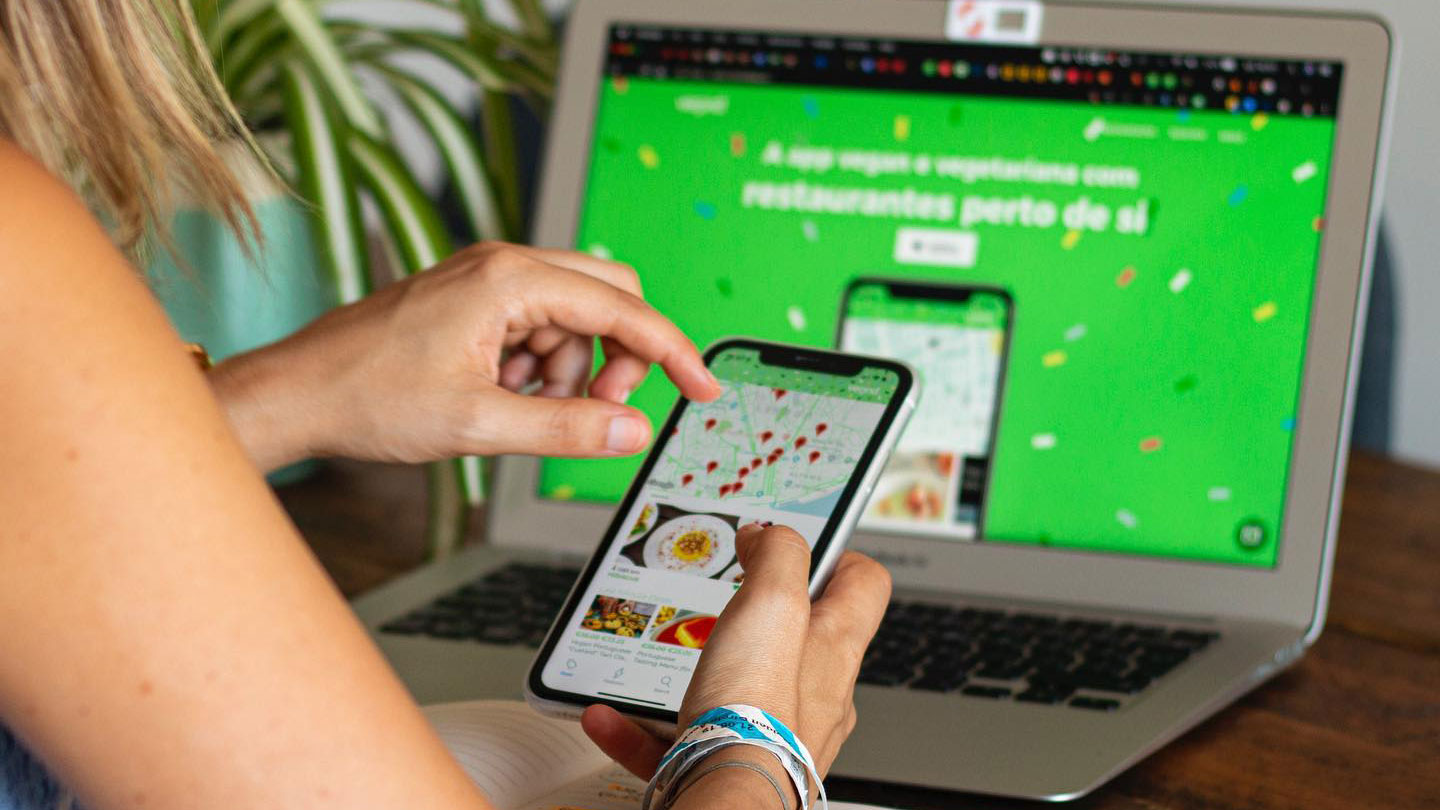 The marketplace with discounts on products, experiences and offers that save the Planet!
In what stage is it now?
We are currently making significant changes to our communication in order to reach a target audience concerned with living more sustainably. We're also making improvements to our website to make it easier for consumers to find everything they need. Implementing these strategic changes, we intend to launch Veond in the United Kingdom, where we already have some consolidated partnerships.
What would it mean for Veond App to win Rise for Impact?
Winning Rise for Impact means increasing the team and focusing on more and better results, and consequently reaching more people, helping them in the process of adoption and/or transition to a more sustainable, ethical and natural life. All of this, together with the launch of the Android version, are fundamental steps in our strategy to increase users.
How does the project contribute to the achievement of the Sustainable Development Goals of the UN Agenda 2030?
Veond seeks to respond to four of the 17 SDG:
SDG 3 – Good Health and Well-Being – By promoting a better diet, we seek to contribute to SDG Goal 3.4 by reducing cardiovascular disease and diabetes.
SDG 12 – Sustainable consumption and production – By exchanging animal products for plant-based products, we intend to promote a more sustainable and efficient use of natural resources, which is in line with SDG 12.2. And according to ODS 12.8. we seek to ensure that people have relevant information that allows them to choose sustainable alternatives
SDG 13 – Climate action – Create educational processes that help people to recognize its impact and what they can do to reduce it through their diet and lifestyle.
SDG 15 – Life on Earth – When choosing a plant-based diet, there will be a decrease in the agricultural industry, which is one of the main causes for deforestation of forests used for raising cattle (or food for animals) and cultivating soy for feed cattle.
In 2025, how do you see the Veond App? Forecasts for the future?
We want to continue to improve the application, make the android version available and enter other markets. We have a well-defined strategy for the future. The scale of the country does not allow us to grow as much as we would like and our goal is to expand to a European level, Spain, Germany, the United Kingdom and/or later on to Brazil. Therefore, our aim is to go to other European capitals quickly and take advantage of the attention that the pandemic has brought to issues related to food, climate and the planet. The app was created so that we can scale very easily and quickly and that is our goal. It is also very important for us to obtain the B-Corp rating.
**
Discover the Veond platform here. Stay tuned, this month we are going to get to know the 10 projects that are participating in the acceleration and that will share their pitch on the Demoday that will take place on December 16th (more information soon on Casa do Impacto's Facebook).
Do you want to be up to date with all the news from Casa do Impacto, including our monthly program of events? Subscribe to our newsletter and follow us on social media – Facebook, Instagram,Twitter and Linkedin.