Casa do Impacto promotes the development of innovative solutions with environmental impact. Today we talk about Forest Impact, the startup resident at Casa do Impacto that plants Tiny Forests, and remember other projects selected by Triggers, +Plus Fund, and The Earthshot Prize.
8min read.
Today, March 21, is the International Day of Forests, a date celebrated annually, since 2013, by deliberation of the United Nations. This year's theme is "FORESTS: sustainable consumption and production", highlighting the importance of protecting terrestrial life and ensuring sustainable production and consumption sustainable development goals (15 and SDGs 12) of the UN 2030 Agenda.
The aim is to address how forest-based innovation, resource efficiency, forest products, and ecosystem services can contribute to a sustainable lifestyle and accelerate the transition to more sustainable consumption and production. The world is currently facing unprecedented challenges, and climate change is among the most pressing. These challenges threaten the well-being of people and the planet and demand immediate action in creating innovative solutions.
Today's celebrations bring together the Food and Agriculture Organization of the United Nations (FAO), the International Union of Forest Research Organizations (IUFRO) and the IUFRO World Congress 2024, and the Swedish University of Agricultural Sciences (SLU). You can watch the event live on UN WebTV!
8 UN messages on Forests:
The forest sector generates jobs for at least 33 million people, and billions use the products that come from the forests. It's estimated that more than half of the world's economic production (GDP – Gross Domestic Product) depends on ecosystem services, part of which are provided by forests. In addition, more than half of the world's population uses forest products to support their well-being and livelihoods.
Forests are essential to the planet's health and human well-being. They cover close to a third of the planet's land surface, providing goods such as wood, fuel, food, and fodder to help combat the effects of climate change, protecting biodiversity, soils, rivers, and water reserves. They're also spaces that provide the connection between people and nature.
The sustainable use of forest products promotes progress toward an economy based on renewable, reusable, and recyclable materials. Wood is a raw material with several purposes and less environmental impact than other materials, and can still be used, reused, and recycled, thus having a prolonged functional life and less ecological footprint.
Increasing the use of products from the forest contributes to carbon neutrality. Science and innovation have revealed the possibility of developing new products derived from wood and tree fiber, such as textiles, food, building materials, cosmetics, biochemicals, bioplastics, and medicines. Replacing less sustainable materials with wood and derived products helps to reduce the carbon footprint.
Wood from sustainable sources is a critical raw material for making cities eco-friendlier. Innovation has enabled the application of wood in infrastructure and buildings, promoting greener towns due to its carbon storage capacity. Its use results in lower energy costs than other building materials production. It notes that the construction sector is responsible for almost 40% of global greenhouse gas emissions.
Forests are essential for sustainable food production. Forest ecosystem services – such as maintaining biodiversity, pollination, and regulating climate, water, and soil quality – are critical to agroforestry systems' sustainability and feeding the (growing) world population. It is estimated that more than 3/4 of families in rural areas depend on wild products (fishing, hunting, gathering wild fruits and mushrooms) in forested areas and natural environments.
It is urgent to stop deforestation and its degradation. Since 1990, the planet has lost a total of 420 million hectares of forest – an area larger than the territory of India – and deforestation, linked mainly to the expansion of monocultures, continues to reduce the forest by around 10 million hectares per annum. Sustainable forest management is key to reducing deforestation and promoting environmental restoration while at the same time generating work and providing renewable materials.
The choice must go through wood products of legal and sustainable origin. Consumers can contribute to the sustainability of forests by choosing products with seals that confirm they come from legal and sustainable sources.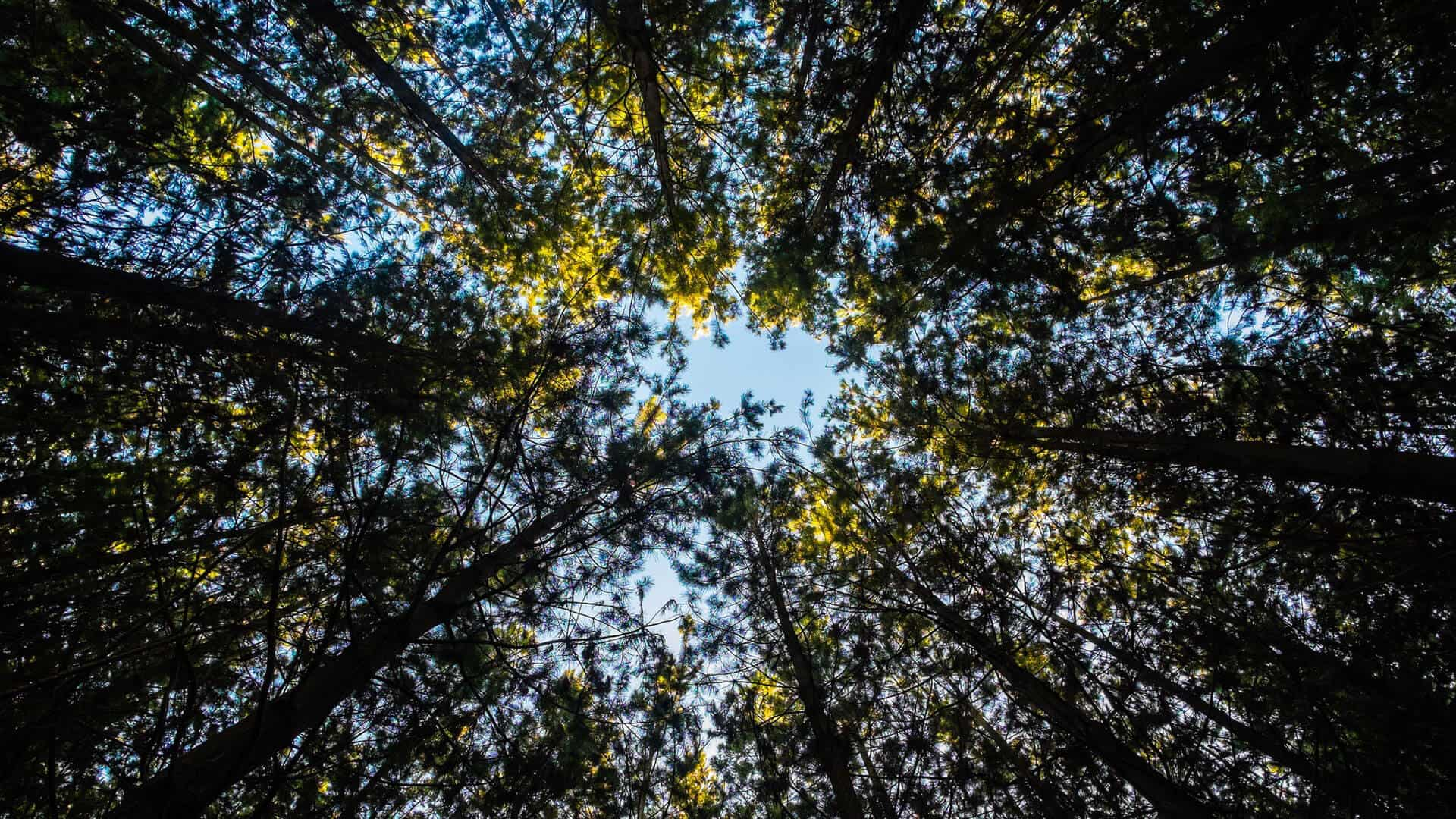 Forest Impact it's a resident startup at Casa do Impacto since 2021, whose mission is to plant Tiny Forests in urban areas of Portugal under the challenge of climate change, the systemic increase in temperatures, and the frequency and intensity of heatwaves.
But what are small forests or Tiny Forests? They are dense native forests but fast-growing, approximately the size of a tennis court (200 m2). They can thrive in both urban and non-urban environments, following the methodology developed in the 70s by the botanist Prof. Akira Miyawaki. Forest Impact highlights the importance of forests in adaptation to climate change (protection during floods, avoiding heat islands, and capturing CO2) and capturing and protecting ecosystems and animal species, such as butterflies, birds, bees, small mammals, and even humans.
Forest Impact claims that there are several advantages to planting small forests, such as:
Fast growing – up to 5 times faster than traditional trees of a single plantation species.
Capture biodiversity – attracting up to 500 animal and plant species varieties.
Carbon absorption capacity – capturing up to 30 times more CO2 than traditional tree planting operations after 4 years.
Reduce air pollution – plants are natural filters that help improve local air quality.
Be acoustic "buffers" – able to provide significant noise absorption.
Provide a more resilient climate – capable of processing around 30,000 litres of rain and thus helping to reduce the risk of local flooding; and still reducing the local temperature and therefore cooperating to mitigate the effect of heatwaves in cities.
Positive impact on mental health – they provide long-term feelings of well-being.
What services do they offer?
Tools for local governments to mitigate climate effects in urban areas while valuing abandoned or underused land.
Teambuilding for companies. Teambuilding for companies to promote sustainable actions between teams and customers by planting small forests.
A way for places to reconnect with and benefit from nature.
How does it work?
Through partnerships with the public and private sector to identify unused/underused land, with the possibility of being regenerated and valued.
Collaborating with local governments in the search for opportunities to promote sustainable actions to mitigate the effects of climate change.
Creating partnerships with companies that want to contribute land and funds to create Tiny Forests.
Working with schools to create projects and activities for children of all ages.
Cooperating with urban planners, the real estate sector, and architects willing to create sustainable urban spaces and more resilient cities.
Tiny forests around the world: Since 2015, several Tiny Forests have been successfully planted in many countries, achieving an incredible environmental impact and involving hundreds of citizens from Belgium, the UK, France, Canada, India, Japan, Pakistan, Netherlands, Ireland, Italy, Lebanon, USA, Chile, among others.
FollowForest ImpactinFacebookandIntagram!
GoParity, AniMob, Naandi regenerative Agriculture Hubs, AirCO2, Biodiverse Carbon from Associação Verde – are another 5 solutions focused on preserving forests with the Casa do Impacto seal.
> Community: A GoParity, residing in Casa since 2019, is the platform for investing in sustainability projects that promotes the expansion of access to opportunities and the sharing of benefits (financial, social and environmental).
> TRIGGERS, an acceleration program that encourages the generation of new ideas and their transformation into sustainable solutions, selected AniMob – This solution for the agro-food and forestry area offers a service for sharing land and livestock by training specialized "modern herders" who are in charge of animal mobility. Directed and regenerative grazing will allow the creation of a single and joint management of land and animals, which will reduce production costs, prevent forest fires, retain carbon, and increase soil resilience.
> In the 7th edition of the Santa Casa Challenge AirCo2, one of the 10 selected projects. A turnkey solution to calculate, reduce and offset the carbon footprint.
> The 2nd edition of +Plus Fund, selected Carbono Biodiverso, a funded project from Associação Verde, for the Testing Axis. "Did you know that, on average, the lifestyle of a Portuguese represents 5 tons of carbon released into the atmosphere per year?". Caborno Biodiverso suggests that you can offset your carbon emissions by funding the preservation of large old trees, which offer ecosystem services essential for life. Since 2017 alone, more than 450 of these trees have disappeared, and it is urgent to care for and preserve them. The carbon footprint compensation solution offers a subscription system consisting of a monthly donation. This payment finances a series of actions carried out on the ground, namely: preservation of trees, or Green Giants, in particular through the attribution of a subsidy to the owners of these structures, which they call Caregivers and the creation and restoration of new areas and facilities for carbon sequestration, in particular through tree planting.
> The Earthshot Prize invited Casa do Impacto to help with the selection process for its first edition. Thus, Casa do Impacto selected the Naandi Regenerative Agriculture Hubs, a national (India) network of Regenerative Agriculture Centers that support smallholder farmers to make profitable agriculture with zero chemical use and a lower carbon footprint.
Latest news about forests:
In 2021, a new parameter began to measure the role of nature in the indices of economic prosperity and the social well-being of populations. This new parameter called the Economic-Environmental Accounting System – Ecosystem Accounting, also started to ensure the recognition and inclusion of the natural capital of forests, swamps and other ecosystems in economic reports. As a result, traditional measurement indices such as GDP (which dominated the measurement of economic growth for more than seven decades) are no longer the only relevant ones. Before this, nature's value was never considered and was treated as "free and unlimited" and destroyed without knowing its value. By accounting for nature and the economy together, in the same framework and with the same parameters, the world has effectively seen how economic activities affect the heart and how the presence of nature affects individuals, societies, and all species.
Do you want to be up to date with all the news from Casa do Impacto, including our monthly program of events? Subscribe to our newsletter and follow us on social media – Facebook, Instagram,Twitter andLinkedin.